Written by: Justyna Cichocka (Recruitment and employer branding specialist)
Interview with Michał Zaczyński, Delivery Manager and our ultimate True Tester.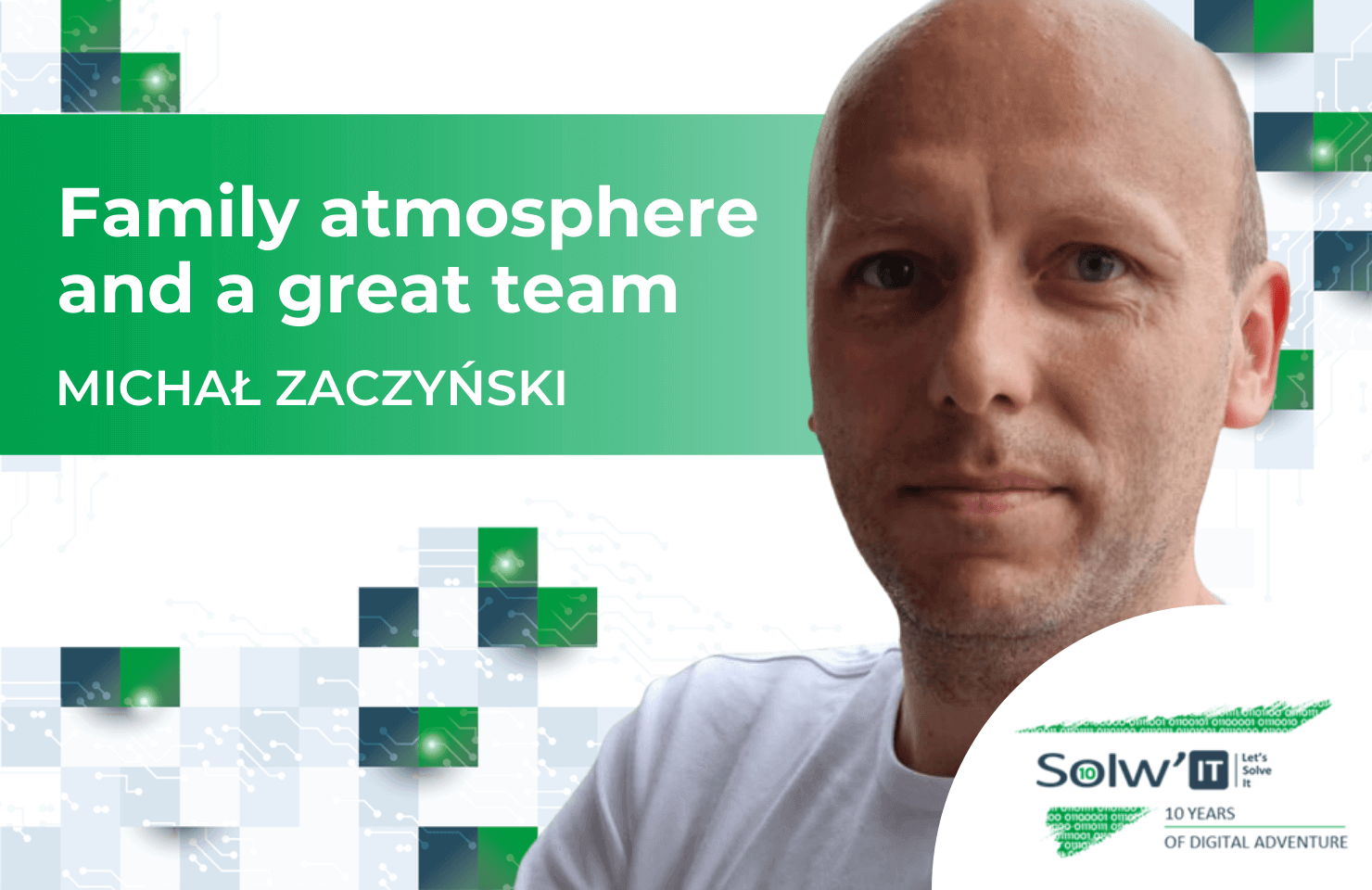 Why Solwit?
In my case it was fairly simple – Solwit was literally founded in the first weeks of my professional career. Back then Solwit was a company with a dozen or so people on board, great aspirations, lots of interesting projects and even more knowledge that had to be assimilated. It was the perfect place to start one's adventure with the industry
What is the key feature that makes Solwit stand out?
In my opinion, it's definitely that well-known family atmosphere and a bunch of great people. There are no formal or informal barriers, respect is all around, regardless of the position, and you can talk directly to anyone – even with Leszek. Of course, in a company with over 350 people, you cannot know everyone in person, but we still operate on the same principles as before.
What is the most difficult part of your daily work?
Currently, it's probably a multitude of topics that I deal with. On a daily basis, I deal with purely technical matters as well as these related to people management and the development of their careers. The challenge is to be constantly up-to-date in order to be able to support colleagues in solving their problems, regardless of what they concern. The pandemic, that surprised us all, also began to require the development of new and effective ways of communicating, which was the biggest challenge last year. Now, thanks to our joint commitment, we can confidently say that we have worked out our own paths and methods of working remotely.
What surprised you in Solwit?
The fact that the CEO knows my first name, and I can pop in to my manager's for a cup of coffee. Lack of some complex formal barriers, but a direct communication and attention to other person instead – those elements of our culture have made me work here for as many years as I have so far. But also it's the feeling, that in fact, everything can be arranged. Of course, with this size of the company, we have to have processes put in place, but definitely no one here is just a cell in Excel and every problem can be solved in a more or less formal way … Although I 'm not sure I should mention it here
What are you most proud of?
It's the fact that I had the opportunity to develop myself and take part in building up the company from the very beginning. It was fun when we were a small group, but it's even more fun when we are a recognizable brand in and around the Tri-City. I'm proud of where Solwit is now, but also where I am. There were tough times, as in any adventure, but nowadays it's just good to come into the office, sit down and you just know it's the right place.
If you could change your position for a week, what would you like to do?
If we talk about purely professional aspect – our discipline, I would not change my position. For over 10 years of my career I had a chance to work in various roles in the company, getting familiar with areas such as testing, automation, setting up processes and recruitments as well as meeting clients. Currently I deal with so many things in so many areas, that I have neither time nor courage to get bored. But if I could try something new, I would become a pilot .
Who is Solwit a perfect choice for? What kind of people feel good with us?
I think for everyone. We currently have such a wide range of projects and technologies that it's probably hard to find an area that we don't deal with. It does not matter if you are a junior, just wanting to learn the job, or a super senior looking for new professional challenges.
The beginnings in Solwit, what do you remember, perhaps you would like to tell us a story?
My adventure with Solwit has been going on for a while, so I have a lot of stories, but coming back to the beginnings I remember the first integration event of the entire company. Everyone who was employed at that time turned up and 5 tables and 7 pizzas were completely enough to fill the whole company up Good memories and the charms of being a small company.
Where do you see Solwit in 10 years?
It must be one of the most favourite questions during the recruitment.
The IT world is changing so rapidly that I am not able to predict in which direction of technology and specialization we will turn, but regardless of it, I hope that no turn will stop us on this way, because it is probably the most important for the company and employees. The main thing is not to stand still.
What can we wish to the entire Solwit team on its 10th birthday?
Further development, but with the same culture, people and their attitude to work and colleagues, and the atmosphere I mentioned. With these three elements, the rest will follow.