Written by: Marketing Team
To those who don't have much to do with programming on a daily basis, it probably seems like creating a mobile or web application is a complicated and lengthy process, requiring the involvement of many people. And we do agree with that point, but there is an exception to this rule, and it is called MVP.
If you are not yet 100% sure if your idea has a chance of success, you are at the stage of looking for an investor and want to show the value of your product, or you have a small budget, and you know that your business will grow with a mobile or web application – then MVP is for you.
What is MVP?
MVP (Minimum Viable Product) is a product with a minimum number of functionalities, the purpose of which is to verify the idea and study the needs, requirements, and opinions of customers, but also to confront the concept with the market. It's still your product, but created in such a way that you can show its benefits with the least possible effort. Building an MVP is a significant time and money-saver, but what else is there?
What are the benefits of creating an MVP (minimum viable product)?
you have the chance to show investors a tangible product, not just talk about its vision,
with a working product, you can also attract additional investors and the funds needed to develop your idea and business,
you can show a working product much faster,
you can assess the cooperation with the developer – if you did well in creating the MVP (minimum viable product), it promises a high chance of long-term success,
you test your app's chance of success – it's much easier to research market demand with a working app and not just mock-ups (visualizations),
you can test your application in terms of UX / UI,
you save a lot of money if it turns out that your application needs a lot of tweaking,
thanks to the data you can acquire in the tests, you can improve your product and tailor it to the needs of your audience.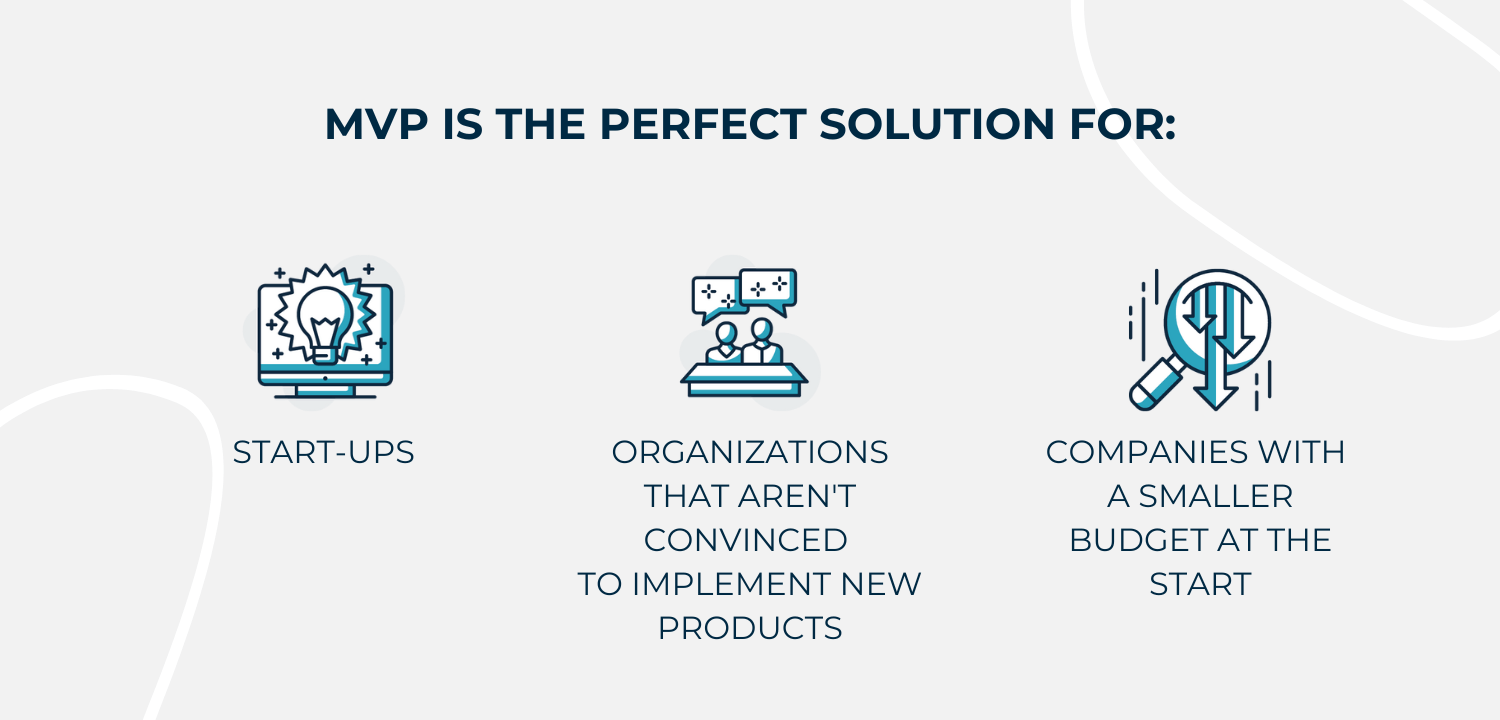 What are the biggest challenges when creating an MVP (minimum viable product)?
– selecting the right technologies and tools to build a basic version of the application and later expand it with additional functionalities,
– researching user feedback and collecting it will require a lot of energy and effort, but you can rest assured that it will be worth it,
– key functionalities of your product may change – you need to be open to changes and suggestions.
Each of the above-mentioned challenges can be dealt with by choosing the right technology partner who can share their experience, identify the best technologies, and suggest further directions for the development of the application.
How do you choose the best technology partner to develop a dedicated app?
You will find many IT companies on the market that offer dedicated application development, but how do you choose the right one? Check out what you need to take into account when deciding to work with an IT company:
Portfolio – start by checking whether the company has experience in developing similar applications. If so, its employees will certainly be able to advise and suggest things, based on the knowledge they have gained from other projects.
Customer reviews – one important point is to read the testimonials of previous customers. Companies are keen to share positive feedback on their websites or social media, but how can you check other reviews? It is worth using third-party sites such as Clutch, where you can find reviews of IT companies submitted by their clients.
Experienced staff – the more experience the staff have, the greater the chance that your project will end up in good hands. So, seek out companies that come with a broad portfolio, but also pay attention to their staff. You can check this by finding the company's profile on LinkedIn.
Cultural closeness – if you are the head of a start-up, it is possible that you are looking for the most affordable solution possible. However, as your project develops, you may find that this frugality will cost you a lot more time and energy. It's worth considering, for instance, that there can be communication issues with your supplier before you start working together – whether you'll want to meet live, or whether you are based in the same time zone. It may not seem obvious at first, but during long-term project work, cultural closeness turns into a vital element.
Customer approach – does the partner really care to get to know your needs and advise you in such a way that your business succeeds? Are they able to recommend a better technical solution than the one you were thinking of? That's what partners are for – to make your product grow through joint effort, not just your budget.
Have an idea for a mobile app, web app, or custom system and are looking for an experienced technology partner? Check out the projects we have completed with clients who needed custom software development.
If you have a ready action plan and description of the application, we will be able to prepare a quote in even 24 hours after sending the specifications. If not – it's not a problem, either. Get in touch with us and arrange a free consultation to work out the next steps together.