Written by: Justyna Cichocka, Employer Branding Specialist
Andrzej, how are you feeling after such a long sea trip and an absence of more than two months?
I've been ashore for a while now, actually since I floated to Flores in the Portuguese Azores, so I've had a bit of time to get used to it.
If so, tell us what happened at this year's Jester Challenge.
So, let's start from the beginning – I have completed my second attempt to cross the Atlantic. It was a great time, with a bunch of activities and adventures – both positive and negative. Four yachts started from Plymouth and one yacht withdrew before the start. I will say immodestly that when I took the lead at the start, I didn't give it up until the end – even though I had sailed up to two-thirds of the distance. Unfortunately, neither of us managed to get to the finish line. In fact, I had completed the most difficult part of the route, the east-central part of the Atlantic, and it was only going to get better from there, but the boat felt otherwise.
There were five Poles competing in the Jester and Ostar sister event, three of them in the single-handed formula. After my colleagues had withdrawn, I really wanted to sail to the finish line and complete my challenge, but I didn't succeed this time either, although I am happy with this race – and even more so with the yacht.
So what happened?
First, there was a failure of the backstay or fixed rigging line on the mast, which fortunately I dealt with quite easily by putting a backup on the mast. There were quite a few other failures along the way, but unfortunately in the end the front column shrouds took their last breath. They had made their way to freedom and there was no way to make the race any further. We had to turn away from the wind line to be able to sail at all, so the direction of the Azores seemed safe. Despite the fact that Halifax was 600 miles away and the Azores 450, the wind was the key player in my decision to turn the yacht around. Even my wife texted me to figure something out and sail on, but unfortunately, that was not an option.
In fact, despite the fact that components of the yacht failed, it is the yacht that I am and have been most satisfied with.
The wear and tear were on the components, just like the brake pads on a car wear out. The yacht performed admirably; it's a really good boat – it suffered a real bashing and still came back almost safe and sound.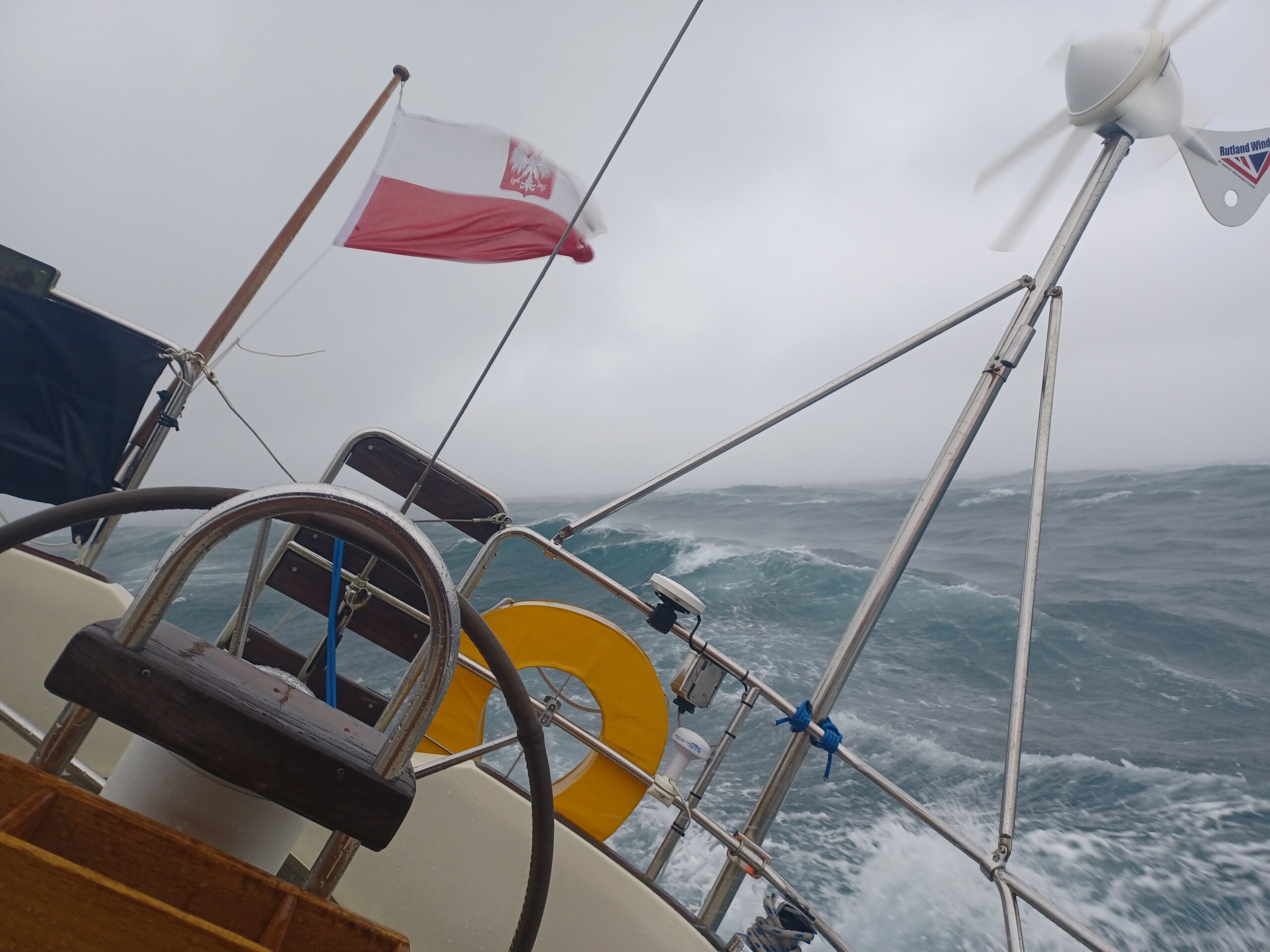 What happened along the way? Some great adventures or a smooth cruise for 3 weeks?
Lots of interesting highlights along the way – from spectacular sunsets, to days when you couldn't tell the difference between the sky and the sea, to heavily stormy conditions with winds of 55 knots. This we had to endure – preparing ourselves and the boat to be seaworthy afterwards. The North Atlantic offers moderate enjoyment of sailing, but plenty of opportunities to test yourself. I saw dolphins only once and it was from a distance. Many times I have battled with myself, and I've consoled myself that I was able to fix any breakdown and that I would simply survive the harder times as well.
Winds of 55 knots are not typical in the Atlantic, although not unheard of either. Artur, who was 'guiding' me across the Atlantic, writing me the weather forecasts via inReach, must have been under tremendous stress. He talks about it lightly now, but he must have been doing a pretty good job of figuring out which route to let me take. Unfortunately, he chose hard knocks, but relatively short ones.
Maciek Magdziarz: I was in touch with him on the phone and I knew he was making very difficult decisions: "Maciek, I am playing the game with a live person".
Yes, that's exactly what it is. Artur says: sail on course 270, it will hit you, but it will be the shortest and you should already be out of the low in the morning. So I sail, because I have no other choice. I don't envy him, because when it's good, it's good, whereas if something serious were to happen, I'm sure he'd have a guilty conscience. I'm also extremely grateful to him – he's a great sailor and regatta racer, and knows how to use the benefits he has on land, so he guided me perfectly. I didn't have the internet, so it was tough for me to plan the route on my own.
On a positive note. So what about those animals in the sea?

I saw my first ever whale, at first it swam at me, or rather a big wave of water swam at me. Fortunately, it missed me and that's all I saw of it. There were no sharks and fortunately I didn't encounter the orcas that have been attacking yachts in the Portugal area for some time – no one knows why. Just in case, I was actively trying to figure out how to avoid the area. Dolphins, on the other hand, were in abundance, especially in the Biscayne area, literally herds of them. These animals create such magic that you can't take your eyes off them.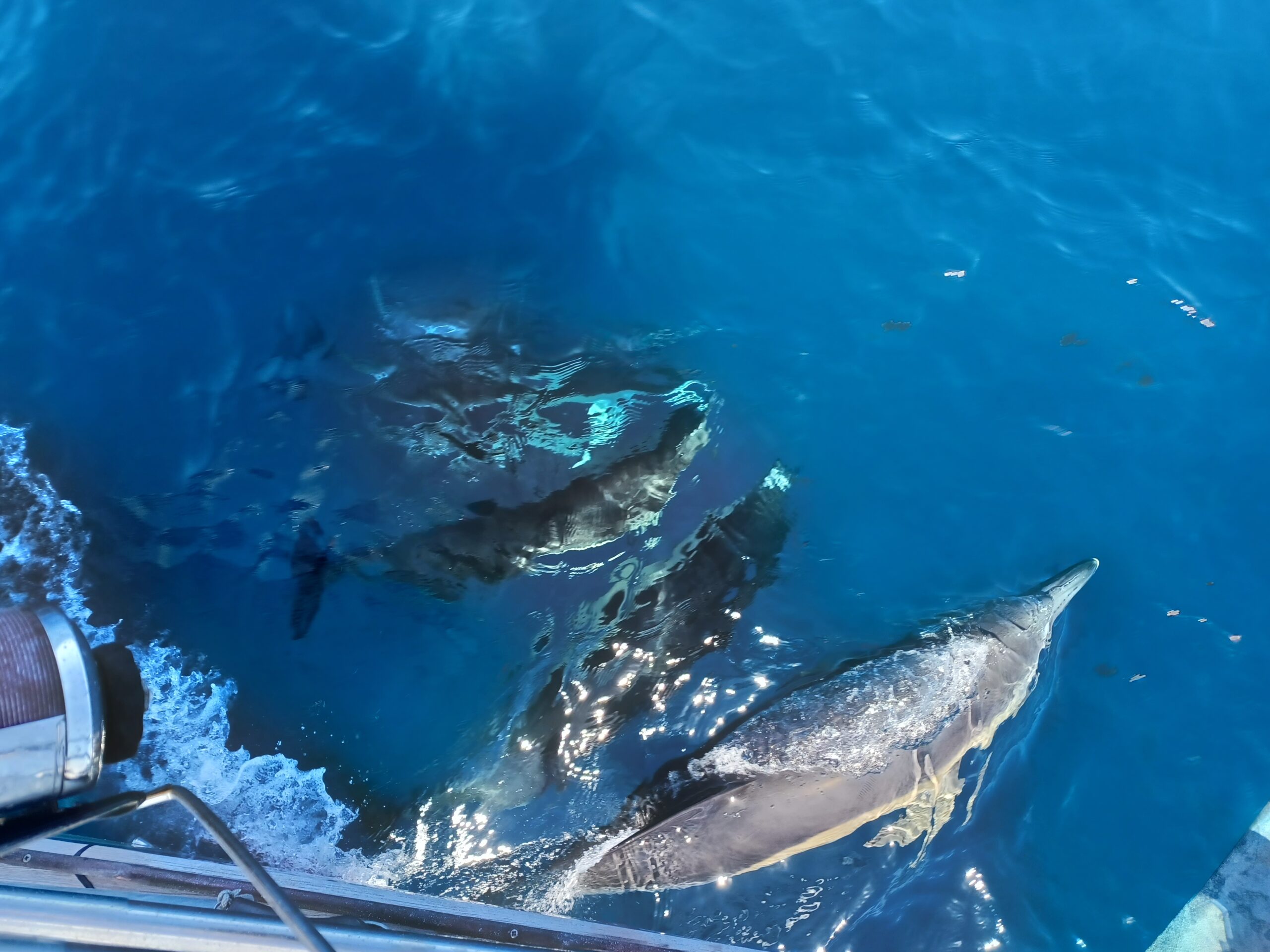 And did you have time to get bored?

It's not like I was running from sail to sail all the time. There was an adrenaline rush at the start, a so-called 'spin', but after 2-3 days this wears off a bit. Depending on the weather conditions, you set everything up and sail, so there is some time left for yourself and for the books – and this is where my unpreparedness unfortunately came out, as I only took one . But there was also time when you didn't know what to put your fingers on.
What did you miss the most?
My family, especially during those 'weaker' moments when the power was out, the autopilot wasn't working, and I wondered how I was ever going to get back. My arrival home was a surprise – I told my wife I would be back on Wednesday, and I arrived 4 days early, i.e., on Saturday. I walked into the house and said "heelllo". Everyone had quite strange looks on their faces, and I don't think Mikołaj believed he was seeing me . Well, and unfortunately the other thing I miss the most is the destination – America.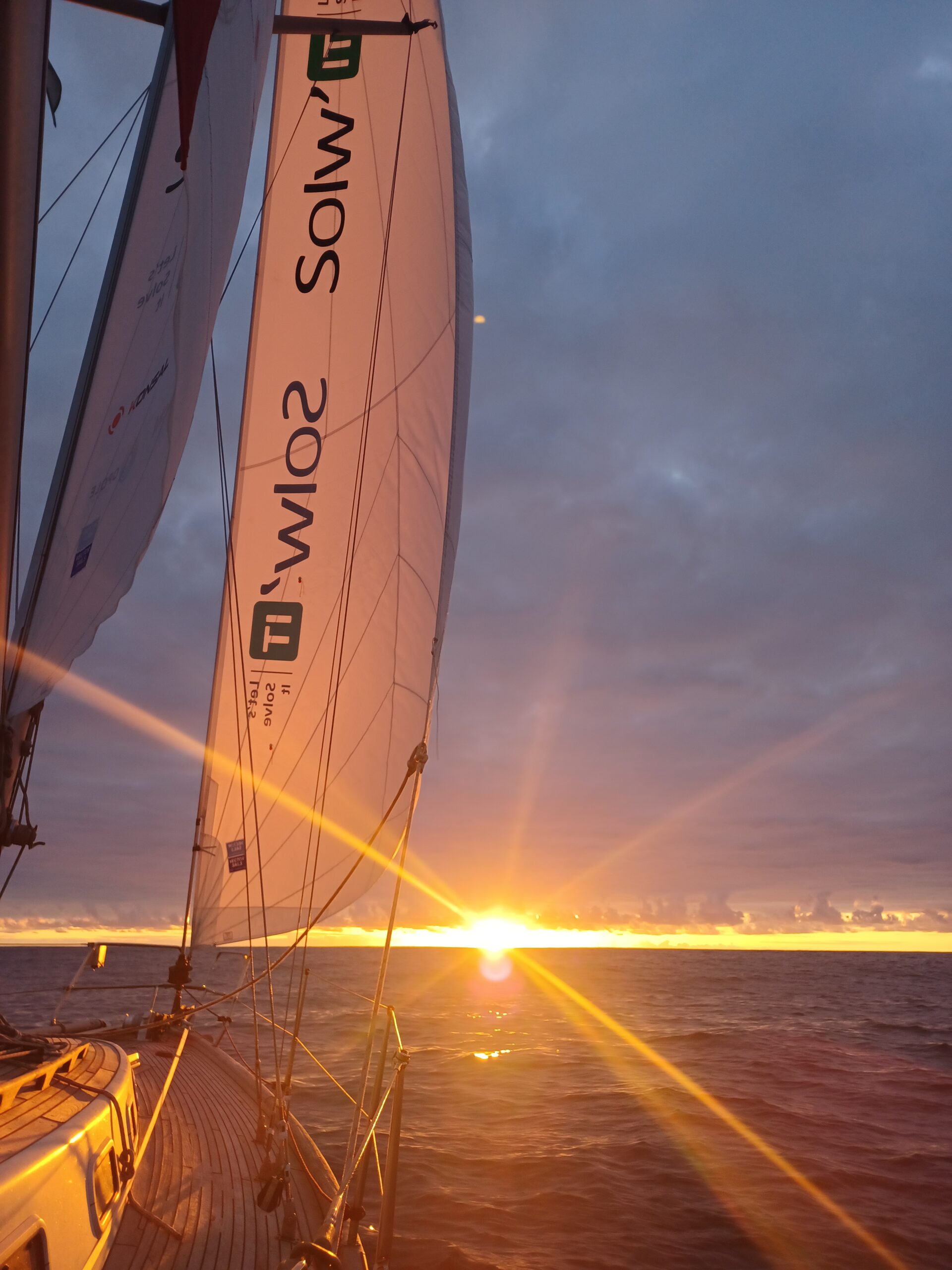 And what is the chef serving up at The Atlantic?
When I sailed into the first, the only and unfortunately also closed port on Flores, I moored the boat to the pier and ran to the pub to eat pizza, drink beer, and hear some human voices. But I didn't miss anything at sea – I had a super stock of goodies in jars, so I was able to taste quite a few delicacies before I started eating the sort of sailor food.
What pushes you towards such challenging solo expeditions?

Even though I'm competing in solo regattas, I still can't answer the question of whether I'm a loner. As long as I think of the cruise as a challenge, it's fine; as long as I think of the regatta, it's fine too, but at the end of the day I'm always looking to connect with people.
Is returning to work after 2 months difficult?
You have to switch, but I was already longing for work. To put a cup under the coffee machine and just click that coffee button to make it . On a boat it's not that easy, and once you get the hang of it, you think to yourself "and why do I need that coffee?" Maciek, my team leader, made sure that my implementation process upon my return went nice and smooth .
Will you make another attempt to tackle the Jester Challenge?

If you had asked me two weeks ago, I would have said no. But now – I'm not saying no. We'll see. Time will tell. After these two attempts I have this feeling that there is no reason to sail there, nobody sails there; once a week the Queen Elisabeth II and some freighters pass by. It's a piece of land where there's nothing, where the water and the sky blend together.
The next Jester is probably 3-4 years away. We'll see. One of the problems for us Poles is getting the yacht to the start line, which takes 2-3 weeks, returning from the States is another two months. Unfortunately it is neither easy nor cheap.
I was unhappy with the first start, I felt very unsatisfied and disappointed, but this time it was really great. The boat was prepared, although the ocean showed that it wasn't quite , but I am certainly now enriched with vital experience. I want to come back, but whether I will – we shall see.