Written by: Justyna Cichocka (Recruitment and employer branding specialist)
We invite you to read another interview from the '10 talks for 10th Solwit Anniversary' cycle. This time we spoke to Natalia Piechota, one of the team leaders and the longest-working woman in Solwit.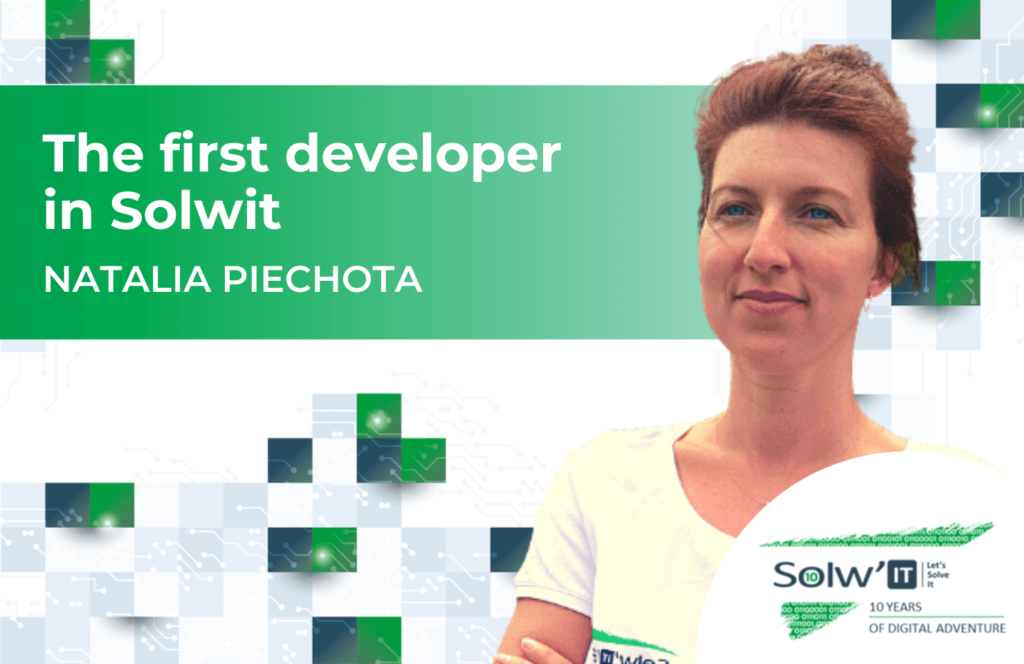 Why Solwit?
10 years ago I was looking for a company that was supposed to be a small startup, with a family atmosphere and where I would not feel like just another number on the contract, but a real person.
At the same time, it was supposed to be a place linking to a big corporate and business world. Solwit turned out to be such a company. The success was fulfilled by my recruitment meeting, that took place in a basement, and as you know, ingenious businesses start this way, so that was a good sign
What is the key feature that makes Solwit stand out?
A family, friendly atmosphere. Even though there are over 300 of us, we are still not just numbers on the contracts.
Obviously, with such a number of employees, it is impossible to know everyone by name, surname and shoe number , but you can always count on their kindness and willingness to help (both in professional and private matters). Instead of a morbid rat race, there is a healthy motivation and ambition, instead of unrealistic requirements (such as 60 years of work experience at the age of 30), there is support in gaining experience and professional development.
What is the most difficult part of your daily work?
Actually, it's a tough question. It all depends on the project you work on.
But I think that the hardest situation happens when you come across a client not being open to innovative solutions or improvement proposals.
What surprised you in Solwit?
The answer to this question is very closely connected to the point 2.
When applying to Solwit, I was convinced that at some point this "family" startup would grow so much that it would adapt all the corporate features, the good and unfortunately the bad ones too. Luckily, that didn't happen. You know, we had to adapt some of the practices of large corporations as the team expanded, but up to know it's been only the minimum necessary. The kindness, openness and approach to employees on an individual basis (as in a startup 10 years ago) have still remained.
What are you most proud of?
Solwit's values. Also in purely professional aspects, qualities such as confidentiality, trust, loyalty and sincerity are a priority. And even if sticking to these values ​​means giving up a good contract or a new potential client, Solwit is ready for that case scenario. Additionally, Solwit supports many charity causes. In fact, the company often displays initiative in that matter. And all that, not just for PR or popularity, but because of a sheer willingness to help others.
If you could change your position for a week, what would you like to do?
I would like to become a manager. As of today, I associate my future with this position and I would like to see what more I need to learn.
Who is Solwit a perfect choice for? What kind of people feel good with us?
For ambitious people willing to develop, but at the same time not wanting to take part in the spreading unhealthy rat race. People who value loyalty, trust and kindness. People who want to motivate and support each other, and not want to do whatever it takes in order to achieve their goals. A young spirit is also welcome, due to a lot of fantastic actions and events taking place here
The beginnings in Solwit, what do you remember, perhaps you would like to tell us a story?
Oh boy, there are so many memories. Drinking coffee together with the CEO, while there were only 30 of us, and we were based on the 1st floor of BCB1 building at Arkonska Business Park, table tennis tournaments – in general, I worked there only for one or two months, (then we moved to Azymutalna Street), but commuting motivated me to buy my first car. I could go on and on for hours.
Although, what stuck in my memory the most was the first Solwit meeting. It took place in a small conference room at the client's premises on the 1st floor. There were about 20 people including me, the only woman in the room. Leszek got up in front of us, welcomed everyone and then said the worst: "and now everyone will come up here and say something about themselves". I say 'the worst' because I don't like public speaking very much, it paralyzes me. Panicked at first, I quickly calmed down because I was sitting in the middle. I thought that no matter which side we started from, I would have enough time to prepare myself mentally. And at that point, Leszek added: "We will start with the one and only Natalia, and she has her birthday today as well." I was definitely not ready for that. Of course, I got up and muttered something, but not sure if that even made sense or was grammatically correct
Where do you see Solwit in 10 years?
As a much bigger company, that's for sure. Offering several products of their own, serving many new clients, but most importantly, sticking to the same values as it does know.
What can we wish to the entire Solwit team on its 10th birthday?
Exactly that, to still be a team as we are now. To continue caring for such a family atmosphere and values. And to each and every one of you: to find your career path in which you will feel and develop the best, may innovative ideas turn into reality, wishing you also openness to changes and just the simple joy in what you do.