Written by: Justyna Cichocka (Recruitment and employer branding specialist)
We invite you to read an interview with Magdalena Brauer, HR Manager at Solwit.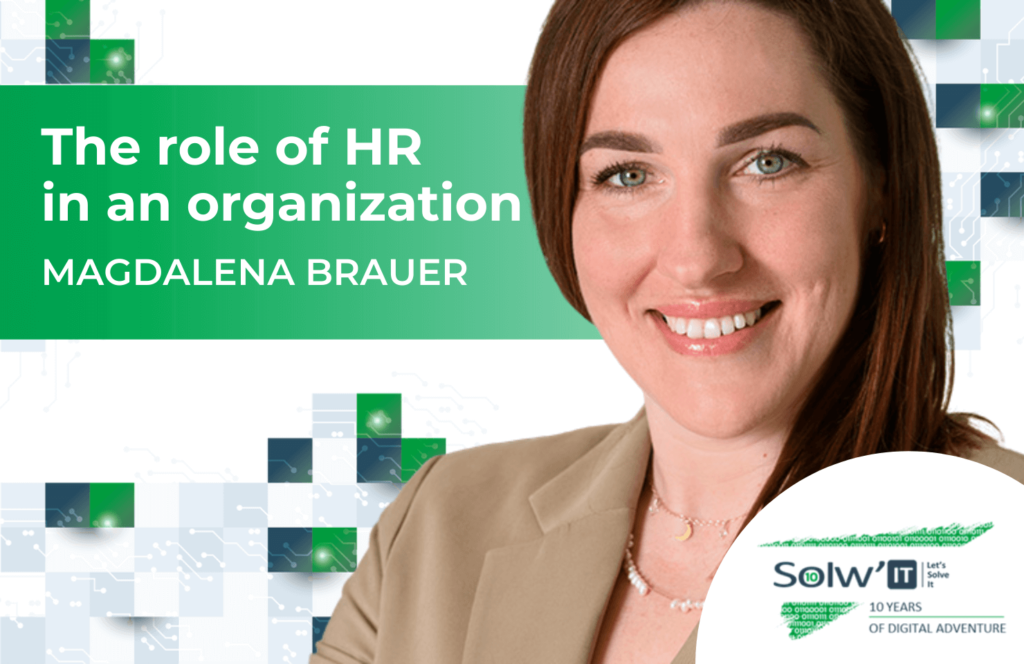 Why Solwit?
My story is one of the typical ones, although it includes 'the moon' element .
I used to work as HR Business Partner in one of IT companies in Gdansk, where along with a colleague, we were fortunate enough to build HR department from the scratch – that experience taught me a lot, but the time came, when I started to dream of change. And the answer to that need happened to be Solwit. And it still is.
Interestingly, I joined Solwit as a Training and Development Specialist, and to be honest that area is still the closest to my heart. I have been a Trainer up to now, although 'in idle' due to other engagements.
One of the stages of the recruitment process was to conduct a 4-hour training for Solwit management.
The training took place in the agile spirit with which I am strongly associated, and allowed me to see the organization from the inside as well as get to know the managers.
I found out back then that Witek Zamorski did carpentry in his spare time, Pawel Zieminski was glued to his phone and computer, and Mariola Pankiewicz could cheer you up with just one look. It turned out that the process was successful and I was invited to join a small and cool HR team. Back then the team consisted of HR Manager Robert and Justyna, who has been working with us up to this day.
After a year of cooperation, Robert decided it was time for him to change. And here we have the aforementioned 'moon' element. On one hand the position and taking the role of Manager was a huge motivational kick, but on the other, a very big challenge to face.
And so, since 2017, I have been proudly performing the role of HR Manager at Solwit. Today, the HR team consists of 11 people, with 2 of our colleagues, Kamila and Marcela, temporarily committing themselves to other pleasant duties (for the glory of next generations).
What is the key feature that makes Solwit stand out?
Strong focus on people – on their development and satisfaction resulting from the chosen career path. When in post-trial or exit interviews our employees indicate respect, the way we communicate, relations with colleagues or superiors as distinguishing features of Solwit, it makes me extremely proud that we – as an organisation, are perceived in this way.
What is the most difficult part of your daily work?
I try to look at life not from the perspective of difficulties, but complexity – as in Scrum approach. You know, one has to get rid of the elephant from a room. The ultramarathons that I happened to run taught me that baby steps are the most important – not only literally When you realize that you have 100 kilometres to run, you want to sit down and cry, but if you break it into smaller chunks in your head – it looks much better. Small steps will you move forward. On the other hand, what is really difficult for me are people issues, i.e. some unfair opinion, a biased accusation, expressed dissatisfaction despite efforts, and situations in which someone goes through something tough. And it's hard to feel helpless when we want to help, but it's not feasible.
What surprised you in Solwit?
Approach. People come first, not roles. Of course, everyone knows their responsibilities towards the company, there are processes and rules, but Solwit has a human to human approach, not an HR-employee or CEO-manager. On top of that: openness, support, respect.
What are you most proud of?
The team that I am part of. The HR team is made up of great people and professionals. I love their sense of humor, I appreciate their resourcefulness, diligence, attitude and full commitment, but also the variety of characters, thanks to which we form a great team. In addition to typically professional activities, we can also count on ourselves. We are attentive to ourselves, to our employees. Daga, Emilia, Justyna C, Justyna M, Paula, Ilek, Rafał, Mikołaj, Marcelka and Kamila – thank you – you are a dream team and wonderful people.
If you could change your position for a week, what would you like to do?
That's a tough question because I really like what I do. But if I could do anything, I'd become a fighter pilot, especially for those à la Tom Cruise sunglasses from Top Gun. More realistically – I would like to be a vet or a guardian of the Tatra National Park, or a TOPR member. These are my two passions outside work – animals and mountains. I have two dogs, the others I love completely and unconditionally (just like most animals). I go to the mountains several times a year, and every day I climb other peaks, metaphorically speaking.
Who is Solwit a perfect choice for? What kind of people feel good with us?
I think that those for whom work is not only 8 hours of carrying out tasks. Solwit is a place for people who do care. For those who engage in the organizational community, they want to change it for the better and build its spirit. It is also a place where other people, teammates and clients count.
The beginnings in Solwit, what do you remember, perhaps you would like to tell us a story?
Of course, I perfectly remember the effective meetings training, which – to put it mildly – did not go my way. I can't reveal the details, because what happens in Vegas, stays in Vegas, but the training ended up with a visit at President Leszek's place. And as you probably guessed, I wasn't invited there to get a congratulatory card
What's even funnier, the whole thing happened during my trial period, so when I went to the meeting, I was thinking about my fate quite intensively. In addition – the famous passion fruit, a joke that came to my mind during my first SUM, i.e. the quarterly meeting of the entire company (there used to be a custom that new people presented themselves to the Solwit community).
My head went completely blank when Robert announced that it was my time to say something in the forum. So I said it, just like Karol Strasburger in the Family Fortunes. I will not repeat the joke, but I had a charming passion fruit nickname for quite some time
Where do you see Solwit in 10 years?
Solwit will be a recognized brand in the whole country, it will have recognized clients for whom we will be a natural choice in terms of commissioning new, interesting projects. As an employer, we will be in the TOP10 places chosen by employees to pursue their career path.
What can we wish to the entire Solwit team on its 10th birthday?
More years of strengthening its position on the market. Each of us feels that their work is an important element of Solwit. And for every day to come: professional fulfillment, satisfaction with relationships and meetings with people who will inspire you to expand your comfort zone.