In an era when online shopping booms, brick-and-mortar shops face a daunting challenge. The CBRE report 'Omnichannel trends in Poland' shows that 75% of Poles shop via the internet at least once a month. What can retail chains do to compete with online shopping? In this case, technology, particularly artificial intelligence, may come in handy. If you're interested in how AI enhances merchandising, this article is for you.
Effective merchandising equals automation
Merchandising, planograms, and displays are all common terms in retail. They often come with many surprises along the way and certainly a great deal of responsibility. Studies show that properly arranging goods on store shelves can boost sales by up to 30%!
What risks does merchandising pose to businesses that see it as a way to bolster their bottom line?
Human error – This might be the most problematic aspect despite the planograms and detailed descriptions. One oversight or misplaced item could crumble the entire elaborate concept.
Time – Deploying products is labor-intensive. Add to it checking it for accuracy, and it becomes hugely labor- and time-consuming.
Control – Someone has to check that the merchandise is placed according to the planogram. Returning to the point above, shop managers and merchandisers must devote plenty of time to this task.
So, how do you ensure that the exposure aligns with the planogram guidelines in a way that realistically contributes to the anticipated sales increase?
AI in the service of retail
Utilizing AI to automate the process of merchandising can help to boost efficiency. Furthermore, we have already executed several such projects for retail clients.
To improve the merchandising process in retail chains, we used the Shelf Inspection AI solution. In this case, artificial intelligence verifies the gear on the shelves through trained neural networks. After analyzing the images and comparing the product display with the planogram, we receive data and clear reports, enabling us to track where our product display stands in specific outlets. This solution also benefits businesses by eliminating the need for additional employees (auditors or sales representatives) who previously had to regularly check the positioning of products on shelves at all points of sale. So, how does it work? Keep reading!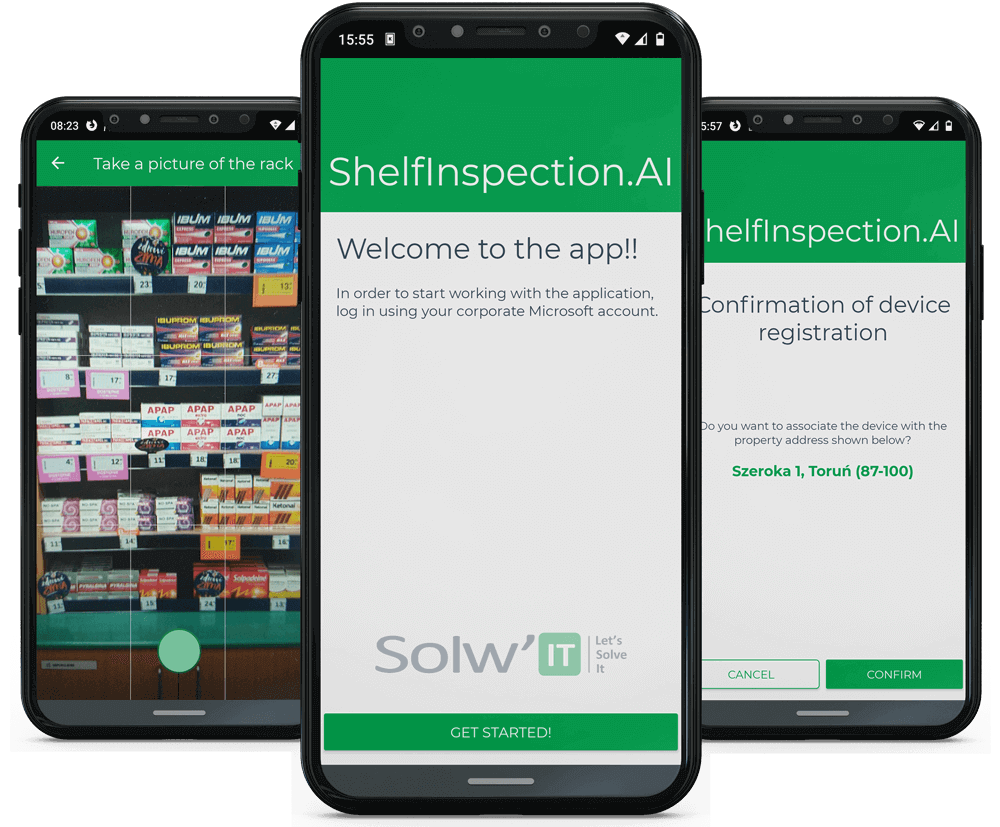 Shelf Inspection AI is configured based on your requirements each time. We can teach the system to recognize any product you display on your shop shelves.
What does the automation of the exposure verification process look like?
Shop employees receive planograms with orders from head office. The app is used to take an exposure photo. With the help of artificial intelligence (AI) algorithms, the system analyzes the photograph content and instantly tells you whether products have been placed correctly. A staff member corrects the positioning until it is accurate, and then you are informed that the product is standing correctly.
AI recognizes the type and number of products and other items in the photo with a high degree of efficiency. It then compares it with the planogram.
Scheme of the Shelf Inspection AI system
What can our Shelf Inspection AI solution (fully customizable to your needs) do?
Recognizes products in a photo 99.5% of the time – keeps track of the number of products on the shelves, checks the order in which they are stocked, and even controls the appropriate signage for promotional campaigns
Analyzes the display correctly in less than 60 seconds – how long does it take for your merchandiser to do this?
Gives you information on the display state almost immediately – verifies the placement of articles and compliance with the planogram
Produces reports – generates extensive and transparent reports in real-time, which can be used both internally and for billing partners
Learns the latest products and planograms if you change your offer
And most importantly, it reduces merchandising costs
Get your display validation process optimized with us. Are you seeking a technology partner with experience in improving merchandising for retail? Get in touch and set up a free consultation!