Four-legged companions are taking our world by storm! These delightful creatures have become a familiar sight in the most unexpected places, from bustling shopping malls to swanky restaurants and even offices. As society embraces this heart-warming trend, Solwit proudly opens its doors to our cherished furry friends. Are you eager to learn more about our organization's 'dog friendly' philosophy? Take a look at what else we have to say!
As a result of the COVID pandemic that began in 2020 and lasted for several months, our reality, including the office, was irreversibly altered. There were a lot of changes which were imposed by the rules and restrictions of that particular time.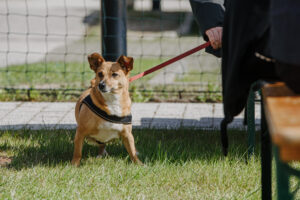 As our presence in the home became more frequent, our household pets became even more accustomed to us. Once our lives returned to pre-pandemic routine and our outings became more regular, we wanted our pets to accompany us more often than before. Hence, Solwit started working on a #dogfriendly policy. It has allowed our cuddly pets to spend even more time with us. The presence of doggies in Solwit's corridors lights up the #solwitteam faces. Win-win at its best.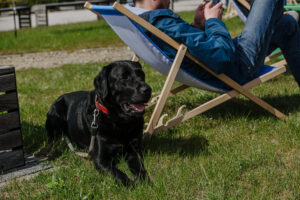 We are well aware that not everyone likes or can stay in the same room with a dog. This was the reason we created Solwit's #dogfriendly policy. Those who wish to bring their pets to the office must adhere to the rules we developed together. Extra guests must be announced in advance, and the room's entrance door must be marked with the appropriate tag – so that visitors are not surprised when they enter the room. 😊 It is nevertheless crucial to agree with the other team members on the pooch's presence – the comfort of co-workers is paramount for us.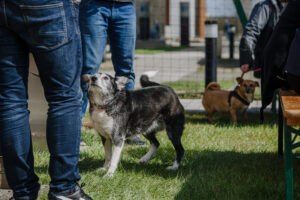 Our Instagram profile shows that the #dogfriendly policy has received a warm welcome among the #solwitteam. There isn't a week when a four-legged friend doesn't visit us, and some dogs are already treated as a permanent part of our office landscape (Challah, Mila – we're stroking your ears from here!). Nothing lifts the mood like our friendly paws!
P.S. We consulted our doggies about the Solwit regulations. We got 'woof woof' – approval from them. 😊