In a world of rapid technological change, artificial intelligence (AI) has become ubiquitous, offering an abundance of opportunities – from enhancing business operations to disrupting entire industries. To introduce this transformative technology and shed light on its potential, we recently held a LinkedIn Live called Level Up #1: AIspiration, featuring our Solwit AI expert Zbyszek Usarek. Be sure to watch the event video, but first, a few words on its highlights.
What is artificial intelligence, and how can it be applied in practice?
As before, let's kick it off with a fundamental question: What exactly is artificial intelligence? Zbyszek presented a concise definition of AI and emphasized that the technology can be applied even in areas that may not seem apparent at first. Today's artificial intelligence is a system capable of understanding its surroundings, taking actions to maximize its goals, and interpreting and analyzing data to learn and adapt over time. In the age where Artificial Intelligence pops up literally everywhere, it's crucial to grasp its essence and implications for everyday life. Though, the issue of disparity in global AI regulations itself may seem somewhat mind-boggling. There are no consistent regulations in place today, and even the pan-European AI Act is still in its legislative infancy.
AI, Machine Learning, and Deep Learning: Terms explained
Although they pertain to different concepts, deep learning, artificial intelligence, and machine learning are often used interchangeably. Zbyszek lucidly unraveled each topic, giving real-life examples to demonstrate how artificial intelligence has become firmly rooted in our world.
Implementing AI in Business: Options and Considerations
The opportunities for business leaders looking to implement AI in their companies are endless. From local solutions to cloud computing, we covered it all. Zbyszek shared insights on how they impacted business processes in companies he has worked for in the past, developing AI-based software.
Google Cloud's AI Services: Vertex AI and Beyond
The event wasn't just about theory – it also covered real-life applications of AI, particularly those from Google Cloud, including Vertex AI. These solutions tackle real business challenges, as Zbyszek noted.
Generative AI and Large Language Models: Envisioning Possibilities
Generative AI and Large Language Models (LLMs) often pique curiosity due to their potential to create content and understand natural language. A deeper dive was taken into these concepts, exploring their benefits within the broader AI landscape. By outlining how they function and their applications, Zbyszek laid out the innovative realms Generative AI and LLMs open up.
Applying GenAI and LLMs for Entrepreneurs: Power Unleashed
Shifting the focus to entrepreneurs, the event explored how these visionary leaders can harness the power of Generative AI and Large Language Models. This segment empowered entrepreneurs with insights into how these tools can be practically employed to streamline processes, innovate content creation, and transform customer interactions.
Real-World Examples: Bunge's Quality Control Transformation
To ground the theoretical discussions, a real-world case study was presented—the collaboration between Solwit and Bunge to create an AI-driven quality control system. This system utilizes computer vision to detect manufacturing defects in real-time, significantly improving product quality and reducing costs. This case study about vision-based quality control system in FMCG exemplified the tangible impact AI can have on enhancing efficiency and profitability.
AI's Role in Environmental Sustainability
During the Q&A Lightning Round and Closing Remarks, Zbyszek was asked a very insightful question from the audience: How can AI help reduce CO2 emissions? According to Zbyszek, AI's potential for combating climate change is vast and spans fields such as optimizing electricity grids and tracking biodiversity. He also highlighted considering AI's carbon footprint, emphasizing the need to address its potential environmental impact.
Meet us in Gdansk and talk about AI for your business
Looking ahead, Solwit's commitment to AI knowledge continues with an exciting offline event. On September 14, we are organizing Solwit Level Up: Decoding AI in collaboration with Google Cloud and other partners. Focusing on artificial intelligence applications in business, this event promises to decode the intricacies of AI's role. Attendees can expect both insightful presentations and valuable networking opportunities.
Come learn more about how AI can benefit your business and sign up!
The event is free to attend; however, the number of available seats is limited.
This free event will be held in Polish.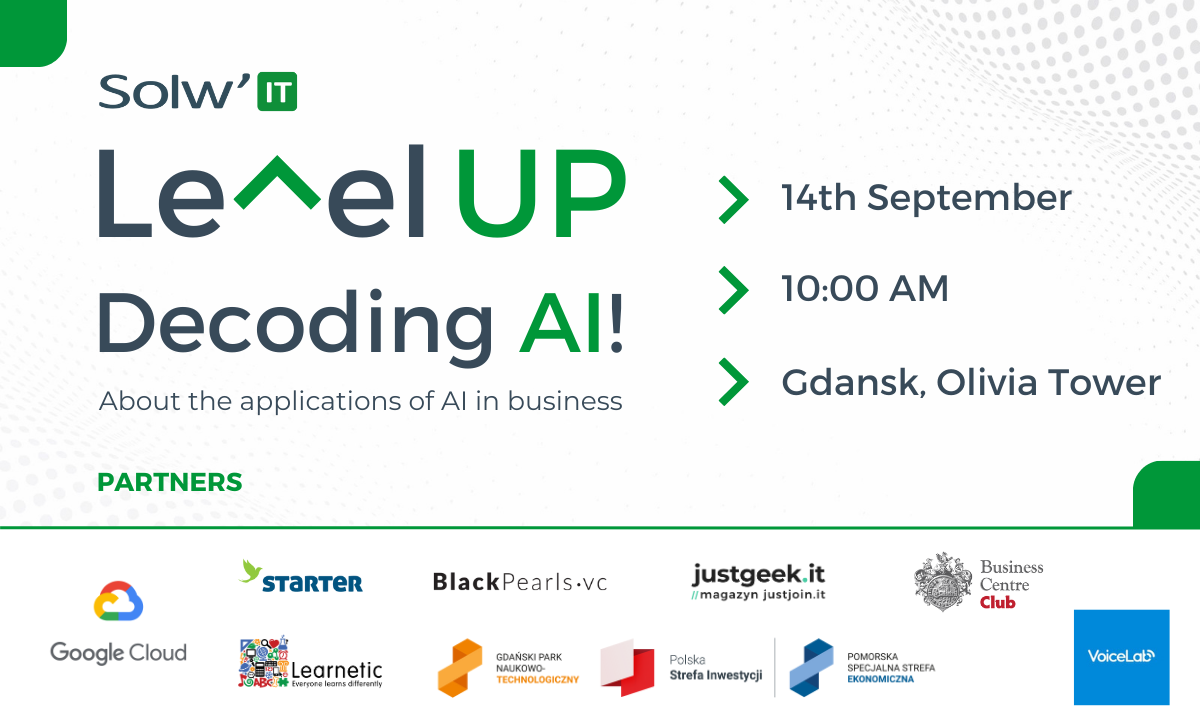 Summary
Overall, Level Up #1: AIspiration LinkedIn Live extended beyond empty buzzwords and infused attendees with practical, hands-on examples and a solid dose of expert knowledge. As AI continues to shape various industries, events like this help bridge the gap between aspirations and implementations, fueling companies toward a future empowered by artificial intelligence.
We have over 12 years of experience in providing cloud services and leveraging new technologies. If you are looking for a proven technology partner to introduce you to managed cloud services and the world of AI or show you how to use its potential to generate more revenue for your business – set up a free consultation!