Despite the pandemic crisis, the automotive industry is growing rapidly, and the Internet of Things plays a pivotal role. Smart sensors have already become a standard feature on vehicles for making everyday driving safer and easier. As the future unfolds, a growing number of solutions are being discussed, which may completely replace drivers. There is more to advanced technology development in this field than driverless cars, though.
Check out the most popular IoT application examples in automotive industries and their benefits from the view of an experienced technology partner in creating IoT solutions.
IoT in automotive industries – a revolution that is changing the world
The global automotive IoT market size was worth $82.7 billion in 2021. According to Precedence Research, it is expected to reach around 621.8 billion by 2030 and drive growth at a CAGR of 25.13% over the next eight years.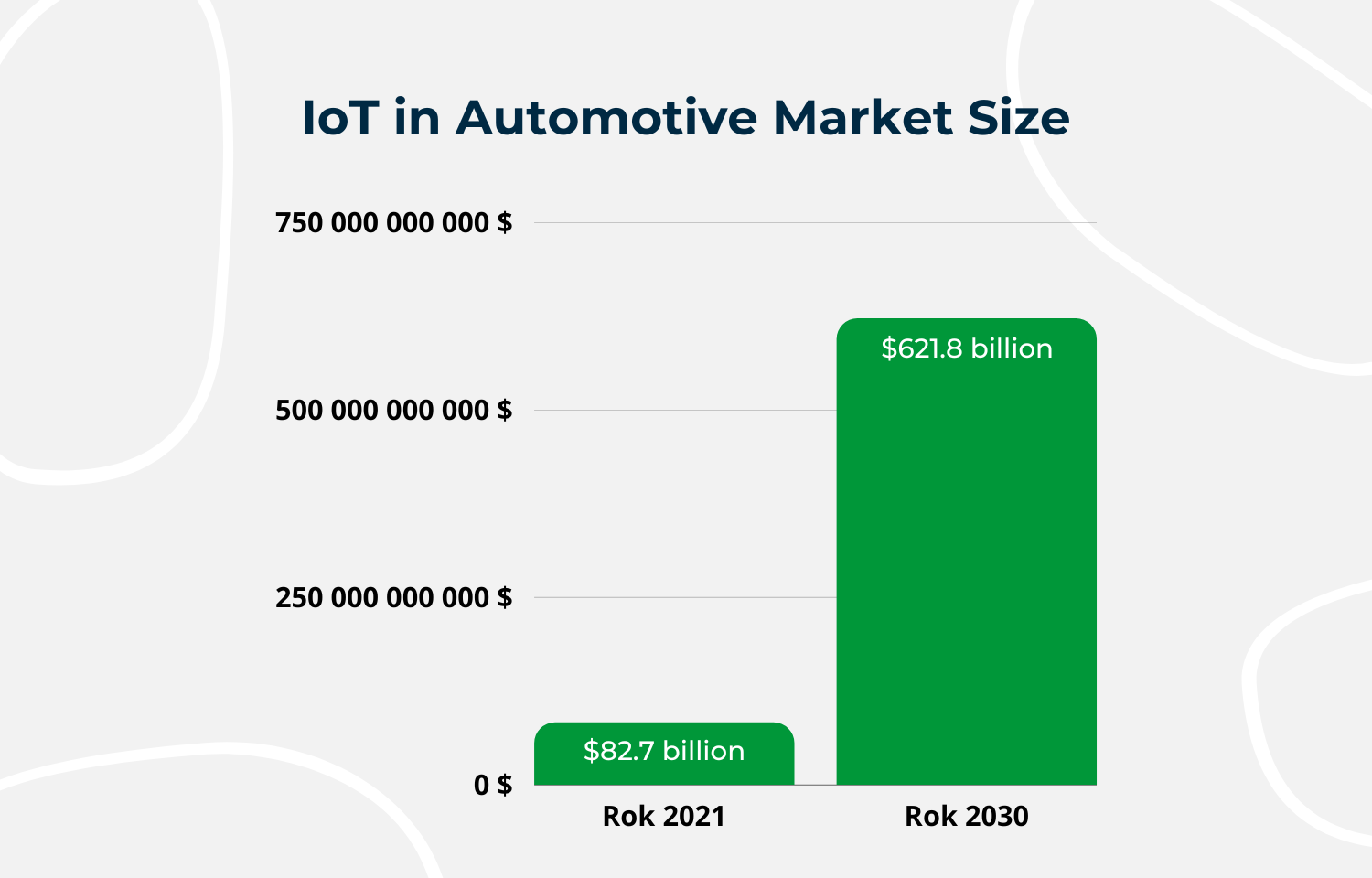 In the automotive field, IoT development is inevitable, and also greatly needed. Not only does it entail a growing demand for convenience and a finer driving experience, but, above all, the chance for safer, more efficient, and greener solutions for drivers and passengers.
Leveraging IoT solutions in the automotive industry comes with heaps of new opportunities for both vehicle manufacturers and their customers. The Internet of Things has already heavily impacted the entire automotive industry and is expected to continue to do so in the years to come, as numerous studies and forecasts demonstrate. Statista, for instance, predicts that in 2025, the automotive industry will generate almost $23.6 billion in revenue resulting specifically from the use of IoT technology.
What is IoT in the automotive industry?
The IoT in automotive represents an ecosystem of internet-connected smart devices such as electronic components, actuators, or sensors that exchange information between one another and their connected vehicles. These devices can gather, process, and analyze huge sets of data and, based on that, perform specific actions in real-time.
IoT in the automotive industry – use cases
1. Fleet management
The implementation of IoT devices in the automotive sector is a massive breakthrough for the logistics industry. By using the right technologies and sensors, as well as cloud-based data collection and analysis, logistics companies can track various parameters on their vehicles in real-time, wherever they are.
Among the most relevant applications of this type of solution are:
route management,
tracking the location of vehicles,
monitoring the weight of the load carried by individual trucks,
real-time vehicle management,
monitoring road conditions.
All these functions allow for better management of time, resources, and personnel. What's more, they help you to analyze the performance of individual vehicles in depth and produce data-driven recommendations for further action.
2. Connected cars
Connected cars is a catch-all term that refers to the interconnection of vehicles, devices, and objects, but also road users (e.g. pedestrians, cyclists) in a number of different ways. The aim of this integration is to enable high-speed data transmission to enhance safety, boost user comfort, and make roads more efficient.
One of the most popular connectivity platforms is Cellular Vehicle-to-Everything (C-V2X). Here's the connectivity grid and the solutions associated with it in the graphic below.
3. Advanced driver assistance systems
Some of the most popular applications of IoT technology in the automotive sector are Advanced Driver Assistance Systems (ADAS).
In the majority of currently-manufactured cars, we can benefit from features such as:
lane assistant
blind spot monitoring,
parking aid,
reversing aid,
automatic emergency braking,
road sign recognition,
detection of driver fatigue and distraction,
collision warning system.
Not only do these features help to get around on the road in the user's day-to-day life, but, most of all, they support the safety of all road users.
At the same time, it is worth pointing out that in order for these types of solutions to run correctly and stably, they should be very carefully implemented and tested in the first place. Whenever we develop or test IoT solutions, our concern goes beyond code quality to system security.
Software for automotive systems has to meet very rigorous standards, and testing is a pivotal phase of development. This can often pose a challenge even for car manufacturers, hence why they opt for external support – from companies who specialize in this kind of testing.
Check out the article – Development and functional tests for the human-machine interface (HMI) application
4. Infotainment system
The application of IoT in the automotive industry is not just about safety or efficiency enhancement. Here, it is well worth mentioning In-Vehicle Infotainment (IVI) software, which enables the integration of internal and external systems (e.g. one's own smartphone) to provide access to information and entertainment for drivers and passengers.
IVI systems can be controlled via touchscreens (with the latest versions on show at this year's Embedded World), physical buttons, and voice commands. These allow users to run multimedia, freely make voice calls via Bluetooth, as well as connect to platforms (Android Auto and Apple CarPlay), and use smartphone apps on the car's display. In fact, the systems are smart enough to prevent us from acting when they deem it too dangerous (e.g. while driving). Pretty cool, right?
By connecting the vehicle to the phone, all applications (such as GPS navigation or music apps) can be used directly in the vehicle. On top of that, the driver can manage calls and messages through voice commands, which not only brings greater comfort but above all enhances safety.
5. Autonomous car
Now let's tackle the autonomous cars mentioned in the title, which evoke as much admiration as doubts.
The sceptics of such solutions invoke accidents, such as the event in March 2019 when 50-year-old Jeremy Beren Banner was killed while using semi-autonomous driver assistance in a Tesla Model X car.
There is no point denying that the development of this field makes up our present. Autonomous cars are soon to be more available to the general public. Unmanned taxis are no longer a fantasy from the future – the Chinese cities of Wuhan and Chongqing have been well adapted for such vehicles, and the Baidu company has been given the go-ahead to roll them out. Clearly, this is a milestone in the development of the global automotive market.
In Poland for instance, works have been undertaken to enable autonomous cars to drive on the roads – efforts include the creation of a map of the routes on which they will be able to drive as well as proposals for changes to road traffic regulations. According to Professor Marcin Ślązak, director of the Motor Transport Institute, we should expect to see the first autonomous cars on Polish roads in the next 12-18 months.
Automotive companies around the world strive to develop a solution that will effectively reduce human error and thus diminish the number of accidents on the roads. Currently, a number of manufacturers are working on putting fully-autonomous vehicles into series production, which will be able to drive without human input on the road.
IoT in the automotive industry – key benefits
The implementation of IoT devices in the automotive industry is not only a matter of immediate benefits for drivers. It is definitely noteworthy that cutting-edge solutions in the automotive sector are also neutral or positive for the environment.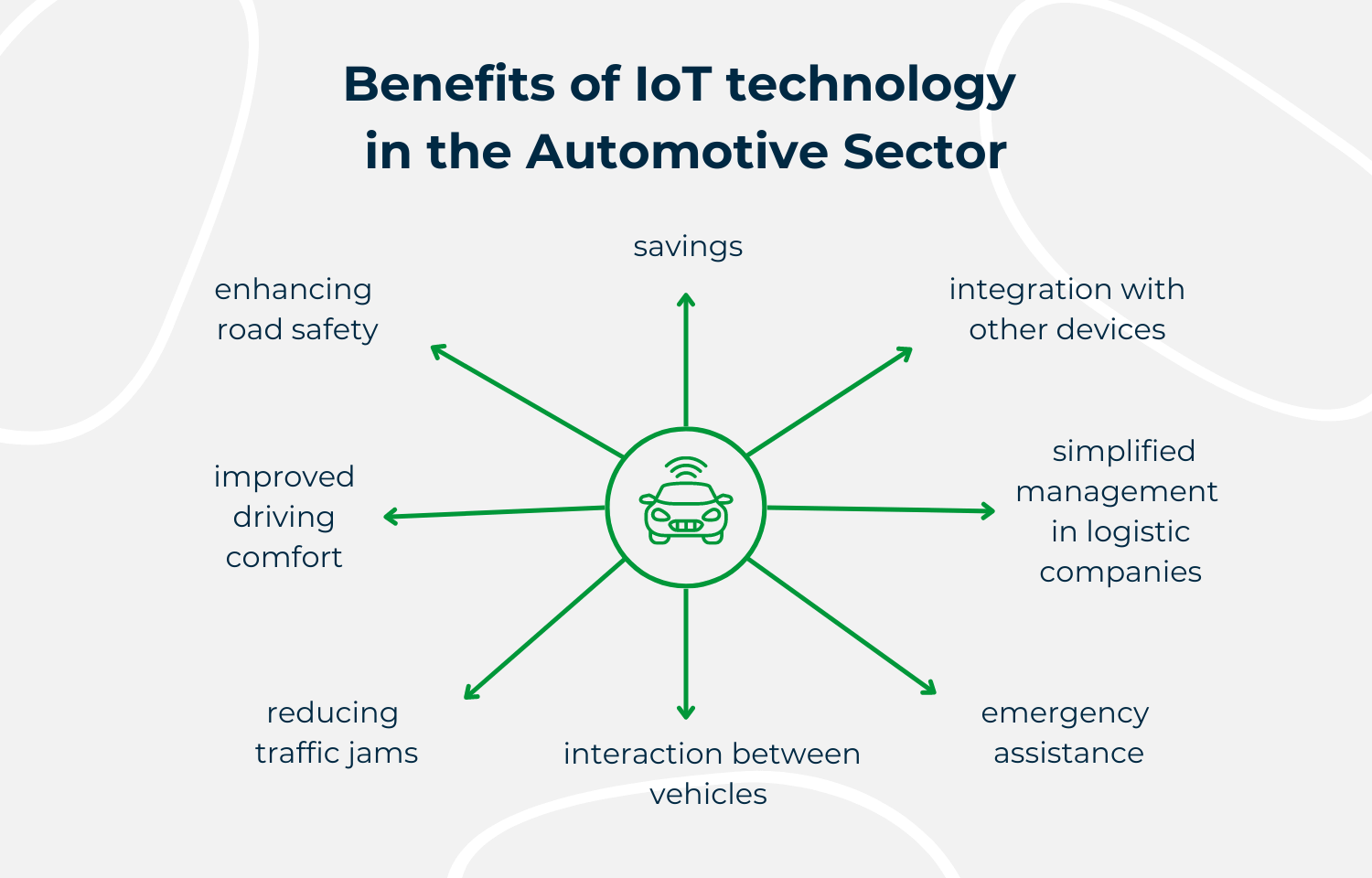 Let's not forget about the upsides from the manufacturers' point of view. By connecting the system to the network and having the ability to gather huge amounts of data, manufacturers can stay informed of any errors occurring in their vehicles. A proper data analysis, such as information on the frequency of use of selected options, also means that they can continually enhance their vehicles in line with customers' preferences.
The Internet of Things – the present and future of the automotive industry
The Internet of Things is undoubtedly a technology that has not yet said its last word in the automotive industry. Plenty of new developments in this field will emerge in the near future, and it won't be long before fully autonomous vehicles that are accessible to all, are brought to market.
Here at Solwit, we are well aware of how crucial it is, especially in the automotive industry, to ensure that systems are secure and as failure-free as possible. The solutions we implement are always repeatedly tested to the highest ISTQB quality standards, so we are confident that our clients will receive verified and secure software.
We have been working with clients in the automotive industry for more than a decade. We have carried out a number of software development and testing projects, including embedded software. If you are planning to develop a dedicated IoT system for the automotive sector and need a reliable technology partner, get in touch with us. We will be more than happy to share our knowledge and suggest the best solutions to match your needs.