Written by: Eryk Stefanowicz, Tech Solutions Advisor
Innovation is the key to your business's growth since it allows you to adapt to changing market conditions and consumer demands. Additionally, it enhances the quality of your digital products. This article covers four ways innovation can accelerate business growth.
How to accelerate business growth by implementing technological innovations
Automate processes
Surveys indicate that 80% of corporate markets have already implemented business process automation or intend to do so within the next 24 months. Operational efficiency and cost reduction can be achieved through process automation. It is possible to reduce the risk of errors when robots and IT systems handle repetitive tasks. Moreover, automation enhances competitiveness, boosts customer satisfaction, and allows employees to focus on creative endeavors.
Utilize Artificial Intelligence (AI)
Recent years have seen a rise in the popularity of artificial intelligence. Up to 90% of business leaders see AI as a potential growth opportunity, according to MIT Sloan Management Review. In business, artificial intelligence streamlines processes, analyzes data, and predicts trends. With artificial intelligence, huge amounts of data can be processed and interpreted in a short period of time. In turn, business decisions can be made more accurately and human errors can be minimized. A great example is our Shelf Inspection AI service, which uses AI and machine learning to automate merchandising. This cutting-edge solution has brought our customers heaps of benefits, such as a streamlined display validation process, reduced costs, and near-real-time reports for analysis.

Foster customer experience
There is a high degree of competitiveness in the business environment today. This puts strong pressure on companies to implement products and services that are relevant to the here and now. A thorough analysis of our client's needs is the first step in Solwit's process. By doing so, we minimize the risk of releasing a product that's incompatible with end-user requirements. As a result of continual communication and the incorporation of suggestions, we create and test dedicated software that helps clients stand out from the competition. A crucial part of our process is to test the software before implementation. As a result, we can detect errors and flaws early on. Our independent experts and dedicated engineering teams will be happy to design and test user-friendly applications for you.
Run your business in a cloud
Scaling is a natural part of business growth. Storing data and files in the cloud comes with heaps of benefits, including not limiting the business to its physical location. It also provides enhanced flexibility and efficiency, and increases security. Solwit is a technology partner of the world's largest: Google, Microsoft, and AWS. We employ certified cloud architects and specialists with experience developing native cloud solutions. On top of that, we provide full strategic support and data migration to the cloud. If you are seeking a proven cloud service provider, get in touch with us!
What will innovation implementation bring to your company's table?
By adopting innovations, a company boosts its image, increases revenues, and cuts costs, having a positive impact on its bottom line. From employees' perspective, innovation contributes to job satisfaction since they can perform their duties more effectively and efficiently due to the latest tools and technologies.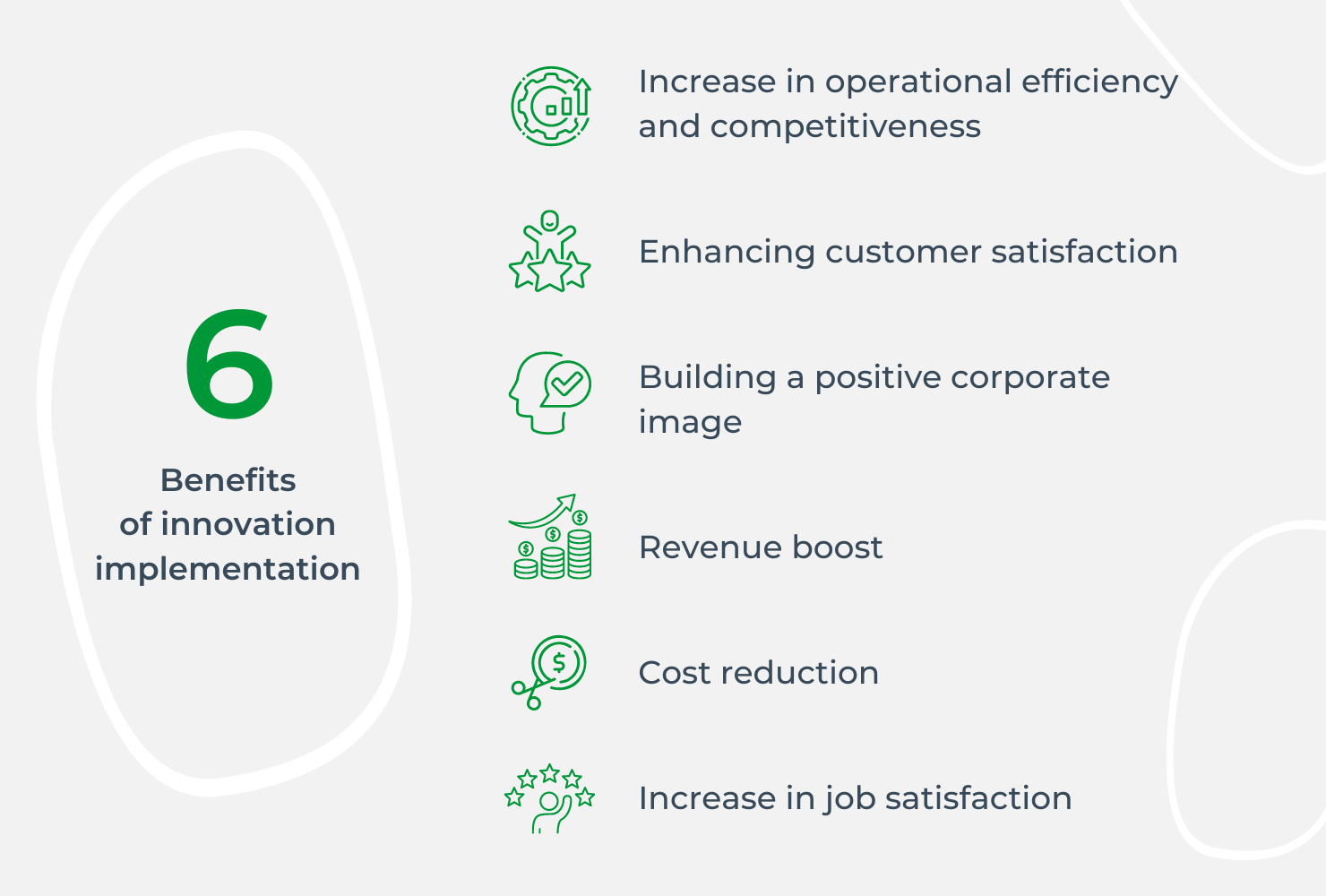 Summing it up
Technology innovation is essential for business growth. Automation, artificial intelligence, putting your customers first, and running your business in the cloud are some solutions that can help you succeed. At Solwit, we offer comprehensive services customized to fit each company's needs. We boast experience developing and testing applications for clients in various industries – see our case studies. If you're ready to innovate within your company, get in touch with us today and set up a free consultation. Our technology consultants will help you find the best solutions for your business.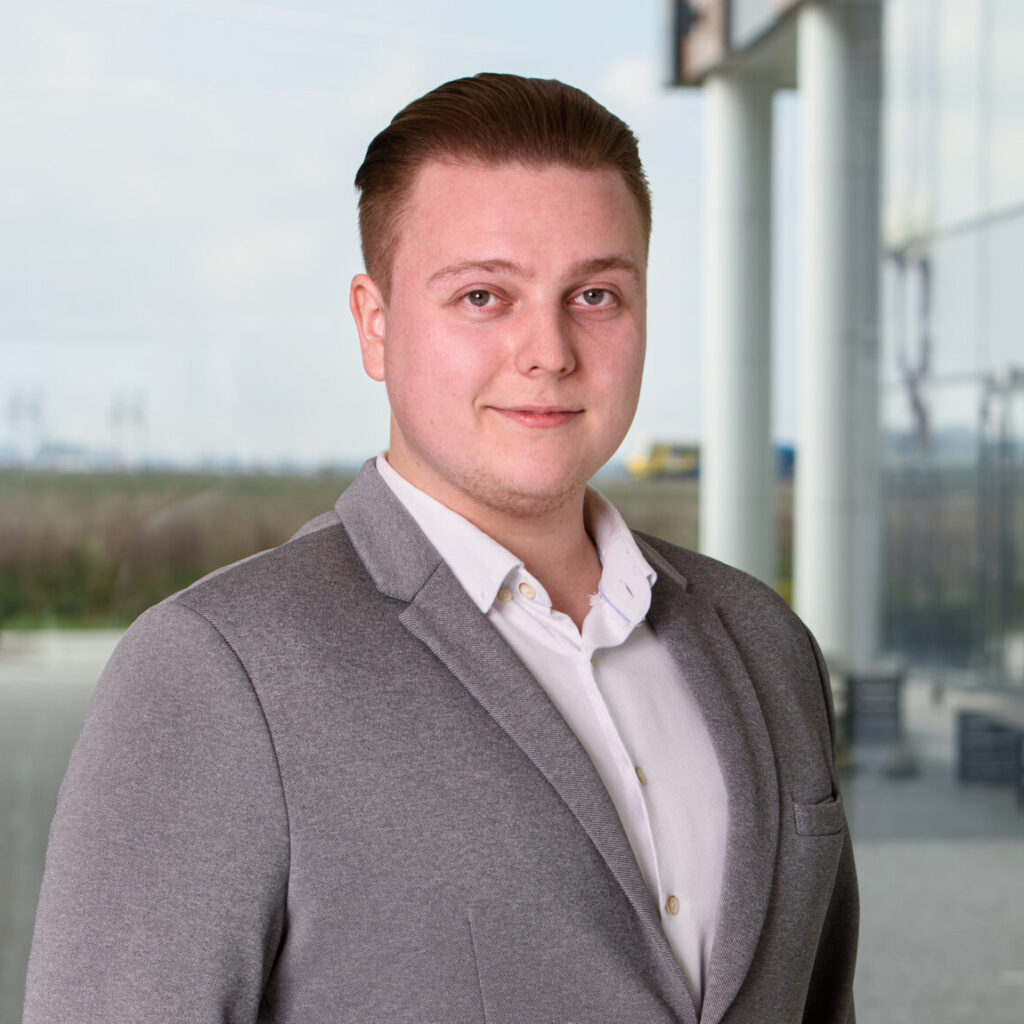 Eryk Stefanowicz, Tech Solutions Advisor
Eryk for over 5 years, he has been actively expanding his business development skills, helping his clients select appropriate technologies and tools, based on his passion for technological innovations and the ubiquitous AI, which opens up enormous possibilities for business growth and process optimization. After hours, he is a musician and a chef.