Written by: Agnieszka Kenig-Westphal, Digital Marketing Manager
Gartner research indicates that 80% of CEOs are increasing digital technology investment to counter current economic pressures, including inflation, talent shortages, and supply constraints. CTOs and chief technology officers will be tasked with executing a digital IT strategy, which comes with some challenges. We will outline them in this article.
Top 6 digital transformation challenges for healthcare companies
Data security and privacy
Protecting patient data from cybersecurity threats and ensuring compliance with data protection regulations may pose formidable challenges. Healthcare organizations must put in place adequate security measures and protocols to ensure sensitive information is protected. According to the 2023 Tech Forecast by Pluralsight report, the most significant gaps in technical skills are in cyber security and cloud computing. Investment in workforce development is not growing in direct proportion to the demand for these skills, so the solution may lie in tapping into the expertise of a technology partner with diverse technology skills, including cyber security.
Delivering value in the short term
Digital transformation is a long-term process. The majority of respondents (60%) to the Deloitte survey said their organizations are halfway through digital transformation. Over half predict they will have three or more years left to complete their digital transformation. In order to achieve such a long-term IT project, organizations should consider setting goals for specific milestones in the project. Doing this will provide value in the short term and determine if they are on track to meet end goals. One solution might be to develop an MVP, which allows faster digital solution implementation. This will enable users' feedback to be continuously applied. This is highly critical, as up to 92% of respondents to the above survey expect digital transformation spending to increase consumer satisfaction and engagement.
Technical infrastructure
Obsolete technology systems and infrastructure hinder digital transformation. Health organizations must modernize their IT infrastructure and overcome systems limitations to utilize digitization benefits fully. Outdated infrastructure can impede growth. According to Gartner's latest forecast, global IT spending will reach $4.6 trillion in 2023, up 5.1% from 2022. This means the most innovative companies will respond to the recession with digital transformation. It can serve as a significant catalyst for growth in difficult times.
Change management and technical competence
Changing organizational culture and staff readiness is essential for digital transformation. Organizations should invest in change management strategies and provide training so that employees accept digital technologies and understand their potential benefits. Aside from the strategy, it is also imperative to implement it correctly, which is why a company deciding to go digital should have qualified IT professionals with experience in implementations in the industry. Talent shortages are a major hindrance to digital transformation in healthcare. Augmenting the team with qualified specialists often entails a much higher cost in time and money than tapping an experienced technology partner's expertise.
Return on investment (ROI) and appropriate prioritization of digital initiatives
Digital transformation initiatives involve financial outlays. Healthcare industry companies must carefully assess the return on investment and develop sustainable financial models to support digital strategy. Ideas are usually plentiful, but prioritizing and implementing them is often challenging. According to a Gartner survey, the top goals for technology leaders are to improve operational excellence (53%) and customer experience. Principal areas of increased investment by CTOs in 2023 include cyber security and information security (66%), business analytics/data analytics (55%), and cloud platforms (50%). However, only a 32% increase in investment in artificial intelligence (AI) and 24% in hyper-automation.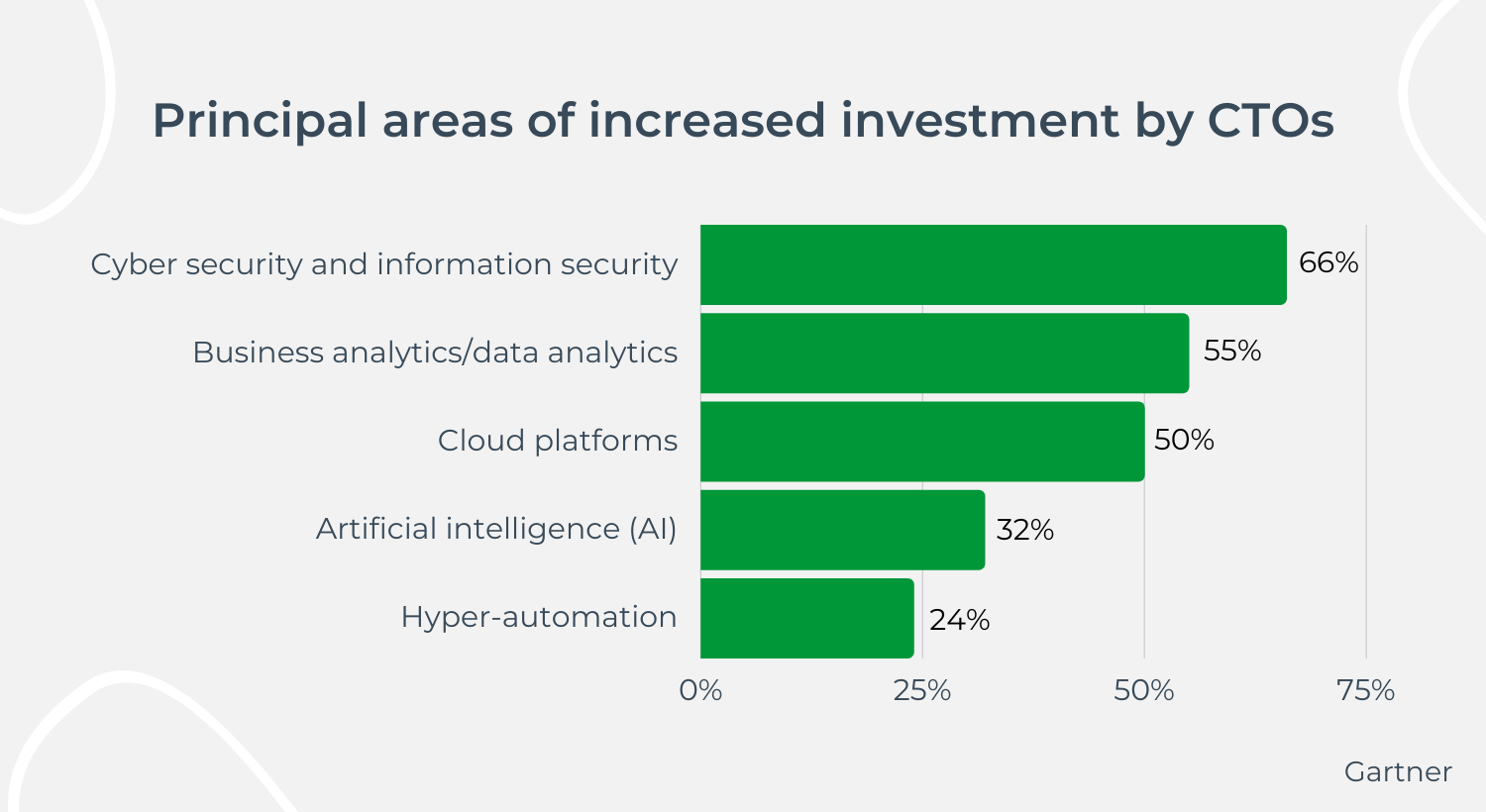 Scalability of systems
To remain competitive, healthcare companies should invest in functional and scalable systems, platforms, and applications using cloud servers. According to the Pluralsight report, 75% of technology leaders are building new products based on cloud solutions. As a partner of providers such as AWS, Google Cloud, and Microsoft, we often consult and assist in implementing innovative solutions based on these technologies.
Why do medical companies need a reliable technology partner?
Healthcare industry competition is on the rise. Innovative applications and systems often answer customer needs. However, creating and implementing them requires experience, knowledge, and skills. A company that wants to win consumers' attention cannot operate alone.  They need a partner with sound industry expertise, qualified specialists, and certifications proving their competence. Solwit is one company worth considering in this regard. The medical field has been a source of our numerous achievements, including an application interface for Zyberia, a safety-critical insulin pump system, and a courier application for hospital warehouses.
We know every step of software development.We have developed and tested thousands of systems and applications for over a decade. With over 350 specialists, we boast a team of developers, testers, and DevOps experts. Thanks to them, we can provide services at the highest level, adapting to our clients' needs.
Many companies have trusted us, appreciating our professional approach and high-quality service. Join the group of satisfied customers and invest in your company's future. Benefit from our free consultation.
Agnieszka Kenig-Westphal
Digital Marketing Manager at Solwit. With over 11 years of experience in marketing, she has collaborated with both corporations and fast-growing companies in the new technology sector. Privately, she is a travel enthusiast and organizer, as well as a lover of topics related to futurology.